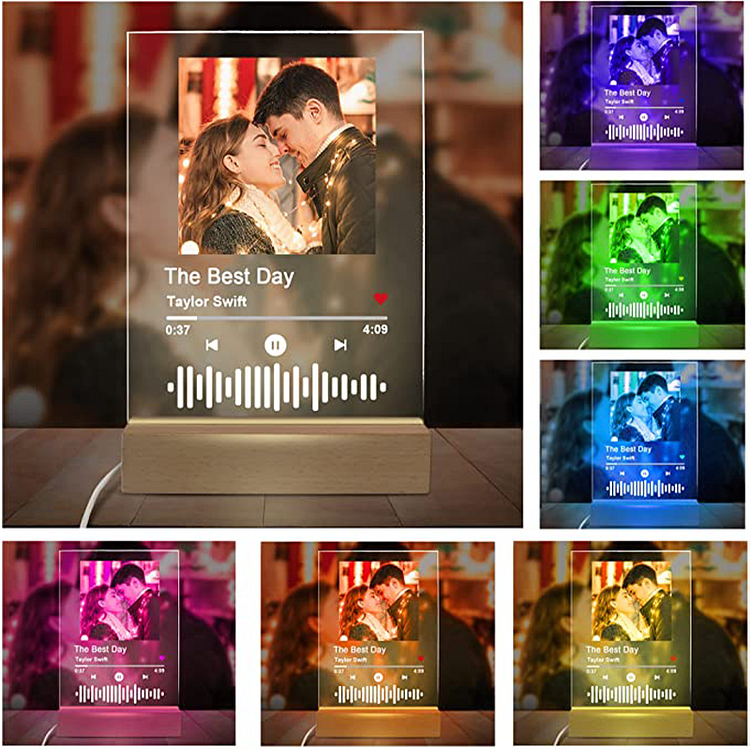 The perfect custom night light for someone special!
Create your very own unique and admirable Music Plaque Night Light to spice up your interior or give to someone special. The customizable acrylic plaque will capture your favorite photo, song, and artist name, making this a valuable sentimental gift for your loved one.
Decorate and light up your room, desk, and home every night! Transform your favorite memory and song with your loved ones into a beautiful night light. Keep your precious memories close between you and family, your lover, your best friend, your furry pal, or anyone else!
You can add the Spotify/Apple link of your favorite song to the acrylic music plaque so that you can scan the code to listen to your favorite song anytime, anywhere.
Let's put your favorite photo of your significant other or your loved ones on a night light along with a special song! The perfect gift for everyone on any occasion!
How does it work?
1. Upload any photo to start customizing your Custom Music Plaque Night Light
2. Add any song name, phrase, or text.
3. Add any artist name, phrase, or text.
4. Optional: Add a song link or full song & artist name so that we can add the song code.
5. Choose your preferred wooden base light color: Warm Light, White Light, 3 Color Light (White, Warm, Yellow) with 10 adjustable brightness levels, and 7 Color Light (White, Yellow, Orange, Purple, Green, Blue, and Pink) with 10 adjustable brightness levels.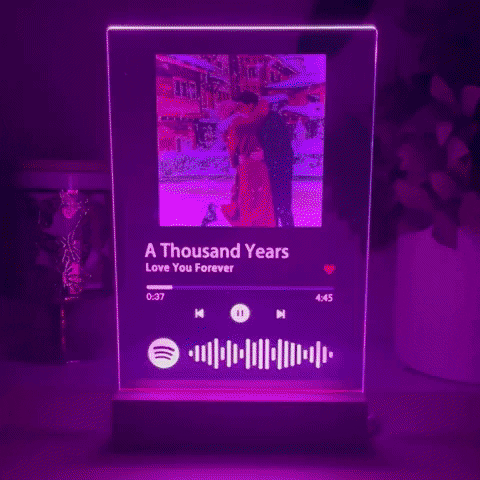 Features:
Made with high-quality LED Lights that light up your music plaque.
Once you receive the night light your song will play instantly after scanning the code.
Unlike conventional night lights, this night light is powered by a universal USB cable (included), giving it a neat and tidy appearance with no restrictions.
100% natural and solid wooden base that is removable and easy to install.